Obama's Favorite County — At Least When It Comes To Giving Speeches
April 17, 2014
The president has visited Prince George's County, Md., four times this year. It is the most affluent county with an African-American majority. It also happens to be very close to the White House.
Read full story...
The Ohio Snake Art That's Been Mid-Slither For A Millennium
April 17, 2014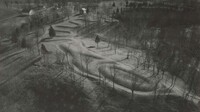 In another installment of the Spring Break series, Noah Adams visits the Serpent Mound in southern Ohio. It's not a burial site; it's a massive, grass-covered snake effigy, created a millennium ago.
Read full story...
When Being Pregnant Also Means Being Out Of A Job
April 17, 2014
Thirty-six years after Congress passed the Pregnancy Discrimination Act, employers still have very different interpretations of what they're required to do to accommodate expectant mothers.
Read full story...
Writer Gabriel Garcia Marquez, Who Gave Voice To Latin America, Dies
April 17, 2014
The master of magic realism was the region's best-known writer. His novels were filled with miraculous events and characters; love and madness; wars, dreams and death. He died Thursday at 87.
Read full story...
A Story Of Torture And Forgiveness That Spans A Half-Century
April 17, 2014
Director Jonathan Teplitsky speaks about his film The Railway Man. It tells the true story of Eric Lomax, a British Army officer who was a prisoner of war during World War II at a Japanese labor camp.
Harmony-Loving Sisters Keep It Retro
April 17, 2014
The Secret Sisters' new album, Put Your Needle Down, displays their sophisticated, timeless sound and the country-twang influences of their hometown, Muscle Shoals, Ala.
Read full story...
On Russian Call-in Show, Putin Maintains Hard Line Against West
April 17, 2014
Russian President Vladimir Putin says he hopes he won't have to move troops into Ukraine to protect the local Russian-speaking population, but he reserves the right to do so.
Read full story...
Why Israel Is Staying On The Sidelines In Ukraine Crisis
April 17, 2014
Israel has been largely silent about Russia's muscling in on Ukraine. The tiny country — with a Russian Jewish foreign minister — seems to want to preserve its good relations with Moscow.
Search Continues For Nearly 300 Missing In South Korea Ferry Accident
April 17, 2014
The search continues for survivors and answers in the South Korean ferry disaster. NPR's Anthony Kuhn offers details on the latest developments.
Opposing Protests Pull Eastern Ukraine In Two Directions
April 17, 2014
In eastern Ukraine, demonstrators supporting a unified Ukraine are rallying just blocks from where pro-Russian militants are occupying a government building.
Out Of A Tough Day Of Diplomacy, A Surprising Deal On Ukraine
April 17, 2014
Diplomats from the United States and Europe gathered in Geneva Thursday to discuss how to resolve the crisis in Ukraine. Secretary of State John Kerry and his counterparts from Russia, Ukraine and the European Union spoke for more than five hours on the issue.
Big Stars Don't Always Guide TV Shows To Success
April 17, 2014
CBS is planning a one-hour season finale for Robin Williams' The Crazy Ones. It was one of three sitcoms built around big established stars this season, all three of which suffered in the ratings.
Read full story...
Who's Crazy Enough To Start A Newspaper In 2014? Ask LA Register
April 17, 2014
The Los Angeles Register is a newspaper that just launched this week. Despite dropping newspaper sales, Ben Bergman of KPCC reports that the publisher thinks there's still an audience for print.
Amid The Tumult, What Dangers Face Minorities In Ukraine?
April 17, 2014
Rita Izsak, the United Nations' special rapporteur on minority issues, discusses her recent visit to Ukraine.
States Are Spotty In Following High Court Lead On Juvenile Sentencing
April 17, 2014
The Supreme Court has recently ruled that mandatory life sentences, without parole, for juveniles are unconstitutional, but states have varied in how they've complied with these decisions.
Read full story...
Following Enrollment Deadline, Health Care Focus Turns To States
April 17, 2014
President Obama met Thursday with insurance company executives and a separate group of insurance regulators from the states, discussing their mutual interest in administering the new health care law.
Consider The Can: An Unlikely Twist On A Louisiana Dish
April 17, 2014
When Poppy Tooker was a kid, her favorite dish was her great-grandmother's Peas in a Roux. Only years later did Tooker discover that canned peas — not fresh or frozen — were the key to the recipe.
Read full story...
Scientists Spot A Planet That Looks Like 'Earth's Cousin'
April 17, 2014
Kepler-186f is almost the same size as Earth, and it orbits in its star's "Goldilocks zone"-- where temperatures may be just right for life. But much is unknown because it's also 500 light-years away.
Read full story...
First Embryonic Stem Cells Cloned From A Man's Skin
April 17, 2014
Scientists based their technique on the one used to create the sheep Dolly years ago. These cells might one day be useful in treating all sorts of diseases.
Read full story...
Rescuers Deliver Most, But Not All, Nigerian Schoolgirls To Safety
April 16, 2014
According to the Nigerian military, all but eight of the girls kidnapped from a Nigerian boarding school have been rescued. As many as 100 girls had been abducted by militants earlier in the week.