Album Review: 'English Oceans,' By Drive-By Truckers
March 6, 2014
Music critic Robert Christgau says it has been six years since Southern rock band Drive-By Truckers put out a great album. That wait ends this week with the release of the excellent English Oceans.
The Scientist Who Makes Stars On Earth
March 6, 2014
An astrophysicist is using something called the Z machine at Sandia National Lab to recreate the conditions on a white dwarf star — only for a few nanoseconds, but still, enough to study.
In Pennsylvania, Gas Company Complaints Grab Statewide Attention
March 6, 2014
One of the biggest natural gas companies in the U.S. is facing legal trouble over allegations it cheats landowners out of royalty money. Chesapeake Energy has faced similar accusations across the U.S.
Senate Blocks Military Sexual Assault Reforms
March 6, 2014
The Senate has blocked a bill introduced by Sen. Kirsten Gillibrand, which had proposed revisions to military procedures for punishing and preventing sexual assault.
Talk About A Misdemeanor: The City Law Against Annoying Behavior
March 6, 2014
Grand Rapids City Attorney Catherine Mish talks to Audie Cornish about an outdated city code that states, "No person shall willfully annoy another person."
As CPAC Opens, GOP Stars Take Turns At The Podium
March 6, 2014
The Conservative Political Action Conference, an annual gathering of conservative activists, routinely attracts big names in the Republican party — and this year's no different. It starts Thursday.
Almost 500 Foods Contain The 'Yoga Mat' Compound. Should We Care?
March 6, 2014
A report finds that azodicarbonamide wasn't just in Subway's bread: It's in hundreds of foods. While it has been linked to asthma in factory workers, the additive poses no known risk to consumers.
Read full story...
Texas Abortion Restrictions Shutter Two More Clinics
March 6, 2014
Several Texas abortion clinics are shutting down Thursday, in part due to restrictions passed by state lawmakers. They join a growing list of clinics that have closed since the law was passed.
Dated Methods Mean Slow Return For Fallen Soldiers — Or None At All
March 6, 2014
The agency charged with bringing home and identifying American war dead is slow, inefficient and stymied by outdated methods, according to a joint investigation by NPR and ProPublica.
Read full story...
Chinese Superstar Lifts Ivory Cause Onto His Shoulders
March 6, 2014
Former NBA star Yao Ming is very famous in China, and he's using his fame on behalf of conservation issues. Now a member of China's parliament, Yao is calling for a ban on the sale of ivory in China.
In Both Moscow And Crimea, The Path Toward Union Made Easier
March 6, 2014
Lawmakers in Crimea have scheduled a referendum on whether to unite with Russia. Meanwhile, Russian legislators are considering two bills to streamline the process for Crimea to become part of Russia.
Obama Lays Groundwork For Sanctions Against Russia
March 6, 2014
With an executive order Thursday, President Obama authorized sanctions on Russia for its involvement in Ukraine. Speaker Boehner praised the sanctions and offered congressional support going forward.
Does Raising The Minimum Wage Kill Jobs?
March 6, 2014
Multiple economists have studied the fast-food industry to answer the question. They've found very different answers.
Read full story...
Obama Pitches Health Care Law To Latinos In Bid To Boost Enrollment
March 6, 2014
President Obama held a Spanish-language town hall-style meeting on the law. Latino enrollment in the health insurance exchanges is seen as critical to its success, but there's been a rocky start.
Read full story...
Running Against The Koch Brothers
March 6, 2014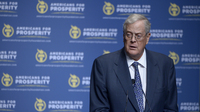 The loudest voice taking on vulnerable Senate Democrats right now is not the Republican party, but Americans for Prosperity, a conservative group founded by the billionaire Koch brothers.
Second Baby Cleared Of HIV. Rare Event, Or Hope For Others?
March 6, 2014
A second child seems to have been cleared of the AIDS virus, thanks to heavy-duty drugs started just hours after birth. This spring researchers plan to test that approach in 60 more newborns.
Read full story...
A Lifelong Radio Man Wins New Fans With 'Big Broadcast'
March 6, 2014
Ed Walker fell in love with radio as a kid in the 1930s. Today, as the host of WAMU 88.5's beloved Sunday night show, he introduces a new generation to classic programs from the golden age of radio.
Read full story...
To Clean Drinking Water, All You Need Is A Stick
March 5, 2014
Removing bacteria and other impurities from water could be done more cheaply thanks to researchers at MIT. They're taking advantage of the way trees move water to filter it.
Read full story...
Senate Democrats Defect On Obama Civil Rights Nominee
March 5, 2014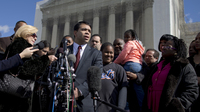 The clash over attorney Debo Adegbile's Justice Dept. nomination pitted powerful law enforcement interests against the civil rights community.
Read full story...
College Board Breaks Out Red Pen For SAT Corrections
March 5, 2014
The College Board is announcing new revisions to the SAT college entrance exam. NPR correspondent Claudio Sanchez lays out the Board's proposed changes.