Stokely Carmichael, A Philosopher Behind The Black Power Movement
March 10, 2014
A new biography traces Carmichael's evolution from civil rights activist to an early proponent of the black power movement and international human rights advocate.
Read full story...
Model Cannolo Takes To The Skies In Sicily
March 10, 2014
Amateur scientists launched the Sicilian Space Program with a homemade spacecraft — a helium balloon and at the tip of the tiny vessel: a clay cannollo.
Italy's Culture Minister Takes Aim At U.S. Weapons Manufacturer
March 10, 2014
Armalite is a weapons manufacturer in Illinois, and Dario Franceschini is upset about an image from ArmaLite's "Work of Art" ad campaign. It shows Michelangelo's David cradling an assault rifle.
Military Conflict Decisions: Why Weakness Leads To Aggression
March 10, 2014
Can a behavioral economics theory explain military standoffs such as the one in Crimea? Research on military conflicts shows that weakness, not strength, often leads to aggression.
Indiana To Mandate Concussion-Awareness Training
March 10, 2014
States are implementing laws aimed at preventing concussions in sports. Indiana may become the first state to mandate concussion-awareness training for high school and youth football coaches.
Why Older Adults Have A Hard Time Letting Their Stuff Go
March 10, 2014
A study finds that people over 50 have difficulty getting rid of unneeded possessions. Some of this is for emotional reasons and some of it for physical ones.
Signs Point To A Slowing U.S. Housing Market
March 10, 2014
After rising sharply in 2013, home prices in many areas are leveling off. An interesting and worrisome development for most Americans because their home is often their most valuable asset.
IBM Computer Creates Meals At South By SouthWest Festival
March 10, 2014
IBM brought a very special food truck to Austin. It is serving dishes developed by its famous supercomputer Watson. In addition to fruit, Baltic Apple Pie uses garlic, onion and pork.
Identity Theft Tops Dirty Dozen List Compiled By IRS
March 10, 2014
It's not a list of criminals — it's the most common tax scams and they could affect you. David Greene talks with Nina Olson, National Taxpayer Advocate at the Internal Revenue Service.
Chiquita Brands To Buy Irish Rival
March 10, 2014
The $526 million deal would create the world's biggest banana company which will be called ChiquitaFyffes.
Search Goes On For Jetliner That Mysteriously Disappeared
March 10, 2014
Authorities continue to piece together scant clues as to why a Malaysia Airlines flight disappeared over the weekend. The plane was headed from Malaysia to China with 239 people aboard.
U.S. Still Exploring Diplomatic Ways To End Crimea Standoff
March 10, 2014
Ukraine's prime minister travels to Washington this week for talks with President Obama. On Sunday, leaders of Germany and Great Britain spent time on the phone with Russian President Vladimir Putin.
SXSW: Snowden Speech Has Conference Buzzing, Congressman Stewing
March 10, 2014
Former NSA contractor Edward Snowden will take questions from South By Southwest attendees via videoconference Monday. A Kansas congressman wants SXSW to rescind the invitation.
Read full story...
'Sherlock,' 'House Of Cards' Top China's Must-Watch List
March 10, 2014
A popular cafe in Shanghai named after Sherlock Holmes' London address opened last year and features near-shrine-like treatment of the show's actor, Benedict Cumberbatch.
Read full story...
Kentucky Southern Baptists Draw Crowds With Gun Giveaways
March 10, 2014
The Kentucky Baptist Convention has found a surefire way for getting people through church doors: free guns. The church raffle events combine dinner, sermons and a Second Amendment message.
Read full story...
The Education Of Christylez Bacon
March 10, 2014
The rapper, singer, beatboxer and multi-instrumentalist is a product of Southeast Washington, D.C., an area hit hard by crime and drugs in the 1980s.
Read full story...
Big Investors Boosting Home Prices, And Not Everyone's Pleased
March 10, 2014
Private equity firms have been snapping up properties in many areas hit hard by the recession. Some analysts worry that those bulk purchases will leave middle-class buyers out in the cold.
Read full story...
Of Cigs And Selfies: Teens Imitate Risky Behavior Shared Online
March 10, 2014
It used to be parents worried that their kids were hanging out with the wrong crowd. Now they need to worry about hanging out with the wrong crowd on Instagram. But do online influences matter?
Read full story...
Alzheimer's Blood Test Raises Ethical Questions
March 9, 2014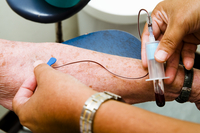 A new blood test for people in their 70s can detect who will develop Alzheimer's disease. A positive result could help people prepare. But since there's no treatment, will people really want to know?
Read full story...
February Job Growth Beats Expectations; Jobless Rate Ticks Up
March 7, 2014
The harsh winter weather's impact on job growth in February was less than expected, as U.S. employers added 175,000 jobs to their payrolls last month. The unemployment rate edged up to 6.7 percent.