A Witness To The Bombing, A Nurse Returns To Boston As A Runner
April 20, 2014
Amelia Nelson was a volunteer nurse at the finish line of last year's Boston Marathon when the bombs went off. This year, she's back, and running for those who no longer can.
Read full story...
This May Be Rogue Parishioners' Last Easter In Closed Church
April 20, 2014
Ten years after sneaking into a church slated for closing, parishioners at Saint Frances Cabrini Catholic Church maintain a 24-hour vigil in attempt to keep their house of worship open.
Read full story...
Daniel Radcliffe's 'Crippled' Role Reaches Out To The Remote
April 20, 2014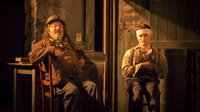 Harry Potter no longer, Daniel Radcliffe spends considerable time devoted to the stage. His latest Broadway role is in the Cripple of Inishmaan, a dark comedy about an isolated Irish community.
Read full story...
Woody Allen's 'Fading Gigolo' Full Of Loneliness And Longing
April 20, 2014
In the new comedy Fading Gigolo, John Turturro plays the title character, and Woody Allen plays his pimp. This story originally broadcast on All Things Considered on April 18, 2014.
April Showers Bring Puzzle Flowers
April 20, 2014
With spring in the air, it's a fitting time for a flower puzzle. Find the flower answer using its anagram, minus one letter.
Read full story...
'Traveling Pants' Author Tries Traveling In Time
April 20, 2014
NPR's Petra Mayer profiles YA author Ann Brashares, whose new book The Here and Now follows a young girl and her community who've escaped a terrible future via time travel and landed in our present.
Read full story...
Exploring The Secret History Of The Cubicle
April 20, 2014
The new book, Cubed: A Secret History of the Workplace, is a look at how the white-collar world came to be the way it is, and what it might become. NPR's Rachel Martin speaks with author Nikil Saval.
Tiny Liechtenstein Loses A Precious Quarter-Acre
April 20, 2014
The tiny principality of Liechtenstein spreads across a grand total of 62 square miles. Now, it's getting smaller.
Japan's Competitive Poets Know How To Turn A Phrase
April 20, 2014
Each spring, Japan is consumed by a contest for style of poetry called Senryu. The poems are just three spare lines about the trials and tribulations of daily life.
How NBA Players Get Rest In An 82-Game Season
April 20, 2014
At the end of a long season, a team's games are even more important. NPR's Rachel Martin talks with Slate.com's Mike Pesca about how teams strategize about players' performances.
Soup to Nuts, Restaurants Smoke It All
April 20, 2014
While you won't find cigarettes in restaurants anymore, some smoking isn't banned. It's not just meat, either; it's hot to smoke just about anything edible.
Hindu Nationalist Topping Polls In World's Largest Election
April 20, 2014
In India, hundreds of millions are casting their ballots in parliamentary elections over the next month. NPR's Rachel Martin talks to Indian reporter Supriya Sharma.
S. Korean Community Waits And Prays For Its Missing Students
April 20, 2014
It's been a week of tragedy for the community of Ansan, an industrial town near Seoul. Many of the high school teenagers who sank with the South Korean ferry last week attended high school there.
Measures Of Change After Bangladesh Garment Factory Collapse
April 20, 2014
One year ago, 1,100 garment workers were killed when a Bangladesh factory collapsed. NPR's Rachel Martin talks to Steven Greenhouse, labor reporter for The New York Times, about what has changed.
Ukraine's Divide, Too Broad For Easter To Bridge?
April 20, 2014
Most Ukrainians are primarily Orthodox Christians, and Easter is the most important religious holiday of the year. Many in the country are hoping the holiday will calm current tensions.
Remembering Harriet Quimby, A Daring Female Pilot
April 20, 2014
Harriet Quimby was the first American woman to get a pilot's license. It was 1910; women could not even vote, but Quimby wanted to see the world.
Flawlessly Remote: Visiting America's Least-Visited National Park
April 20, 2014
Aniakchak National Monument in Alaska is one of the wildest parks in the U.S. NPR's Rachel Martin speaks with Chris Solomon, who traveled there for Outside magazine.
Legal At Last, Colorado's Pot Contest Gets Competitively Mellow
April 20, 2014
Denver is playing host to the annual Cannabis Cup this weekend. Editor Ricardo Baca of The Denver Post's The Cannabist blog gives NPR's Rachel Martin the high scores.
BBC Icon Finds Children's Adventure In An Element Hunter
April 20, 2014
Simon Mayo, a veteran broadcaster for the BBC, has written a series of children's books about a boy obsessed with the periodic table. He talks to NPR's Rachel Martin about the latest, Itch Rocks.
Conservationist Shot In Africa's Oldest Nature Preserve
April 20, 2014
An internationally recognized conservationist is recovering after he was attacked in the Democratic Republic of Congo. NPR's Rachel Martin talks to Allard Blom of the World Wildlife Fund.