Obama Wants To Sell Exports To Asia, But Critics Aren't Buying
April 18, 2014
As the president prepares to travel to Asia, the White House says a trade deal would boost U.S. exports. But opponents say the Trans-Pacific Partnership would hurt the environment and U.S. jobs.
Read full story...
Six Words: 'Segregation Should Not Determine Our Future'
April 18, 2014
Central High School in Tuscaloosa, Ala., was once considered a model of desegregation. Today, the school's population is 99 percent black. One family's story underscores three generations of change.
Read full story...
'Completely Unique': Cave-Dwelling Female Insects Have Penises
April 17, 2014
A team of international scientists have found four species of insects with reversed sex organs. The females' anatomy may have to do with their need for nutrients that only males produce.
Read full story...
The Ohio Snake Art That's Been Mid-Slither For A Millennium
April 17, 2014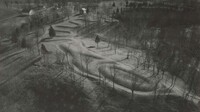 In another installment of the Spring Break series, Noah Adams visits the Serpent Mound in southern Ohio. It's not a burial site; it's a massive, grass-covered snake effigy, created a millennium ago.
Read full story...
Chelsea Clinton Says She's Pregnant
April 17, 2014
The 34-year-old daughter of former President Bill Clinton and former Secretary of State Hillary Clinton says she and husband Marc Mezvinsky are "very excited."
Read full story...
When Being Pregnant Also Means Being Out Of A Job
April 17, 2014
Thirty-six years after Congress passed the Pregnancy Discrimination Act, employers still have very different interpretations of what they're required to do to accommodate expectant mothers.
Read full story...
Out Of A Tough Day Of Diplomacy, A Surprising Deal On Ukraine
April 17, 2014
Diplomats from the United States and Europe gathered in Geneva Thursday to discuss how to resolve the crisis in Ukraine. Secretary of State John Kerry and his counterparts from Russia, Ukraine and the European Union spoke for more than five hours on the issue.
States Are Spotty In Following High Court Lead On Juvenile Sentencing
April 17, 2014
The Supreme Court has recently ruled that mandatory life sentences, without parole, for juveniles are unconstitutional, but states have varied in how they've complied with these decisions.
Read full story...
Following Enrollment Deadline, Health Care Focus Turns To States
April 17, 2014
President Obama met Thursday with insurance company executives and a separate group of insurance regulators from the states, discussing their mutual interest in administering the new health care law.
Unlikely Partnerships Spring From California Water Crisis
April 17, 2014
Farmers in the parched Central Valley are joining forces with farmworkers and a broad cross section of politicians to pressure the federal government to offer relief.
Read full story...
Obama: Affordable Care Act Enrollment Hits 8 Million
April 17, 2014
At a White House briefing, the president referred to the Affordable Care Act, saying "this thing is working," and urged Republicans to stop trying to repeal the law.
Read full story...
Hillary Clinton's Presidential Chess Board
April 17, 2014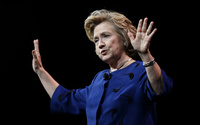 Much of what will happen in the 2016 presidential race — in both political parties — hinges on whether Clinton decides to run. She has said she'll announce by the end of the year.
Read full story...
BP Exec Who Led Cleanup Settles On Charges Of Insider Trading
April 17, 2014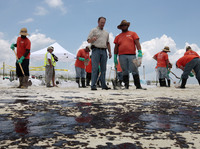 Keith A. Seilhan, who was the incident commander directing the company's cleanup effort, allegedly sold $1 million in BP stock based on nonpublic information about the extent of the spill.
Read full story...
15 Injured After Firetrucks Collide, Smash Into LA Restaurant
April 17, 2014
Two vehicles from different departments were rushing to the same fire in a suburb of Los Angeles when they collided. One of them careened into the restaurant.
Read full story...
Why Did Vanity Fair Give 'Belfies' A Stamp Of Approval?
April 17, 2014
"Selfie" may have been the 2013 word of the year. But "belfies," or "butt selfies" are now in the spotlight. We learn more about why they earned a fitness model a spread in Vanity Fair magazine.
'Miserable' Doctors Prescribe A Different Career
April 17, 2014
A lot of children grow up wanting to be doctors, but now some physicians are discouraging others from joining the profession. What has changed over the years?
You've Served Your Country, Now Get To Class
April 17, 2014
Government benefits enable military veterans to attend college, but accessing them is complicated. So how can veterans pay for higher education?
Ohio's Law Against Political Lying Heads To Supreme Court
April 17, 2014
Can a state law prevent political campaigns from doling out misinformation? Guest host Celeste Headlee learns more from The Plain Dealer's Sabrina Eaton.
Do America's Deportation Policies Work?
April 17, 2014
Guest Host Celeste Headlee learns more about the United States' deportation policies from Muzaffar Chishti of the Migration Policy Institute.
Deported For An Old Crime, Jamaican Loses His American Dream
April 17, 2014
Howard Dean Bailey made a good life for himself in the U.S. But then, a decades-old run-in with the law led to his deportation. Does his story show the system failing or working?