Florida Election Tests Midterm Messaging
March 11, 2014
A closely contested House special election Tuesday is being viewed by the national parties and big money interests as an early barometer reading on Obamacare.
Read full story...
Trapping And Tracking The Mysterious Snowy Owl
March 11, 2014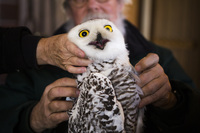 This winter's unexpected arctic bird invasion has given owl researchers a rare opportunity. They're fitting a few of the errant owls with GPS backpacks to track their return to the Arctic.
Read full story...
Holder Speaks Out On Snowden, Drone Policy, Softening Sentences
March 11, 2014
In an interview, Eric Holder says he's open to talking with Edward Snowden about terms of surrender. And the attorney general is unhappy with the vote to block a nominee to a top Justice Dept. post.
Read full story...
U.S. Checks For Stolen Passports, But Other Nations Fall Short
March 11, 2014
Two men apparently boarded Malaysia Airlines flight 370 with stolen passports. The U.S. has safeguards to prevent that from happening on U.S.-bound flights, but other nations are not as diligent.
Read full story...
N.Y. Governor Says College For Inmates Will Pay Off For Taxpayers
March 11, 2014
Andrew Cuomo says funding prison college classes will cut recidivism rates. But critics say it's unfair to pay for prisoners' educations while middle-class families struggle with college costs.
Read full story...
Seattle Moves To Curb Uber, Other Ride-Share Services
March 10, 2014
Taxi companies have been vocal opponents of web-based "ride-share" services, which they say have an unfair advantage because they're playing by different rules.
Read full story...
Colorado Collected $2.1 Million In January Taxes On Recreational Pot
March 10, 2014
Another $1.4 million in taxes and fees were collected from the sale of medical marijuana. This indicates that about $14 million worth of marijuana was sold during the first month of legalization.
Read full story...
QUIZ: What Came Out Of World War I?
March 10, 2014
World War I shook up the world in a dramatic way — and from that chaos emerged inventions, words and other things we still use today. Can you identify them all?
Read full story...
Social Distrust Blooms Among Millennials, But Where Are Its Roots?
March 10, 2014
A Pew Study finds that the milliennial generation has a low level of social trust. There are several possible causes for this distrust, including a skewed social media culture and a faltering economy.
After A Marathon Game, Two Hockey Teams Split One Trophy
March 10, 2014
A high school hockey game in Ohio ended in surprise after seven periods of overtime, when officials called it a tie. Chris Irwin, the athletic director of one of the teams, explains the decision.
Hedge Fund Turns To Lobbying To Back Up Its Billion-Dollar Bet
March 10, 2014
Hedge fund manager Bill Ackman first invested against Herbalife, then lobbied politicians to go after the company. Eric Lipton of The New York Times reported on the story, and he has more details.
Pending Russian Response, Kerry's Travel Plans Are Up In The Air
March 10, 2014
Before Secretary of State John Kerry agrees to visit Russia, the State Department says it wants to see concrete evidence that Russia's ready for serious discussions on ending the crisis in Ukraine.
Keep Austin Wary: Snowden Streams Warnings To Tech Conference
March 10, 2014
Former National Security Agency contractor Edward Snowden addressed the South by Southwest Interactive Festival, urging developers to build encryption systems to stifle government snooping.
Groups Use Cash Prizes To Encourage Saving
March 10, 2014
Organizations are trying to find ways to get people with lower incomes to save more. One program urges families to set aside a part of their tax refunds so they have money for emergencies.
Read full story...
Freshly Baked Art: Cookies That Are A Feast For The Eyes
March 10, 2014
For an online community of crafty bakers, a cookie is more than just a crumbly delight. They're taking cookie decorating to new heights of intricacy, from carnival carousels to beach-themed treats.
Read full story...
Memories Can Go Astray When We Step Outside Our Bodies
March 10, 2014
Virtual reality can make people feel like they are experiencing the world outside of their bodies. The sensation can make it hard for the people to remember what happened to them.
Read full story...
What If Ukraine Still Had Nuclear Weapons?
March 10, 2014
Ukraine gave up its nuclear weapons two decades ago when Russia and the U.S. pledged to respect its sovereignty. Amid the current crisis with Russia, some Ukrainians now say that was a mistake.
Read full story...
Smithsonian Institution Gets A New Director
March 10, 2014
Cornell University President David Skorton has been named the Smithsonian's next secretary. Skorton, a cardiologist and amateur jazz musician, will be the first physician to lead the nation's attic.
Read full story...
The Upside Of All This Cold? A Boom In Ice Cider
March 10, 2014
Canada invented ice cider in the '90s. Now it's becoming trendy and Vermont wants to cash in, too. The frigid winter has been just the stuff to turn the state's frozen apples into tasty dessert wine.
Read full story...
Governors' Races Offer Promise For Democrats
March 10, 2014
Republicans scored big gains in the states in 2010, but that's left them with few opportunities this fall. And there are several blue state GOP governors who are now in trouble.
Read full story...