Civil Rights Nomination Fight Connects To Decades-Old Murder
March 7, 2014
The Senate voted this week to bar Debo Adegbile from leading the Justice Department's Civil Rights Division. Law professors Douglas Kmiec and Spencer Overton discuss the case and role of the division.
Gillibrand, McCaskill Square Off Over Military Assault Prosecutions
March 7, 2014
The Senate has rejected a measure that would have allowed military prosecutors — rather than commanders — decide which sexual assault cases to pursue. The 2 female senators were on opposite sides.
House Backs Obama's Request To Back Loans For Ukraine
March 7, 2014
The crisis in Ukraine is galvanizing unusually swift bipartisan action on Capitol Hill. The GOP-led House voted overwhelmingly on Thursday to authorize a $1 billion loan guarantee for Ukraine.
Sen. Rand Paul To Address Annual CPAC Meeting
March 7, 2014
Everyone at the Conservative Political Action Conference assumes Rand Paul is running for president. He's a top contender, but is the GOP ready for his non-interventionist foreign policy views?
Read full story...
3 Lessons From Obama's Failed Justice Department Nomination
March 6, 2014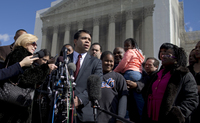 Why was it such a disaster? Seven Democrats defected from their party to vote against President Obama's nominee.
Read full story...
Top Conservative Event Opens With Big Names, Red Meat And Fun
March 6, 2014
Opening day at the annual Conservative Political Action Conference attracted some of the biggest names in GOP politics. It also featured some young conservatives bent on having some fun with politics.
Read full story...
Senate Blocks Military Sexual Assault Reforms
March 6, 2014
The Senate has blocked a bill introduced by Sen. Kirsten Gillibrand, which had proposed revisions to military procedures for punishing and preventing sexual assault.
As CPAC Opens, GOP Stars Take Turns At The Podium
March 6, 2014
The Conservative Political Action Conference, an annual gathering of conservative activists, routinely attracts big names in the Republican party — and this year's no different. It starts Thursday.
Texas Abortion Restrictions Shutter Two More Clinics
March 6, 2014
Several Texas abortion clinics are shutting down Thursday, in part due to restrictions passed by state lawmakers. They join a growing list of clinics that have closed since the law was passed.
Obama Lays Groundwork For Sanctions Against Russia
March 6, 2014
With an executive order Thursday, President Obama authorized sanctions on Russia for its involvement in Ukraine. Speaker Boehner praised the sanctions and offered congressional support going forward.
Running Against The Koch Brothers
March 6, 2014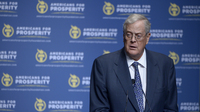 The loudest voice taking on vulnerable Senate Democrats right now is not the Republican party, but Americans for Prosperity, a conservative group founded by the billionaire Koch brothers.
Senate Blocks Bill To Overhaul Military Sex Assault Prosecutions
March 6, 2014
The measure would have removed the authority of senior military commanders to prosecute sexual assault cases within their ranks. The vote was 55-45 vote.
Read full story...
VIDEO: Dalai Lama Prays Senators Will 'Act With A Pure Mind'
March 6, 2014
The Buddhist spiritual leader delivered the U.S. Senate's opening prayer on Thursday. If the politicians heed his words, "happiness will follow," he says.
Read full story...
Claims And Counterclaims Fly As CIA And Senate Exchange Fire
March 6, 2014
Did the agency spy on Senate staffers? Did those Senate aides take classified documents from the CIA's headquarters? Investigators are sorting through the accusations.
Read full story...
CPAC 2014: Reading The Tea (Party) Leaves
March 6, 2014
As the 2014 Conservative Political Action Conference gets underway, one of the major questions hanging over the event is this: how much clout does the Tea Party still have?
Read full story...
Race To Stop 'Revenge Porn' Raises Free Speech Worries
March 6, 2014
More than a dozen states are considering bills that would criminalize the online posting of sexually explicit photos or videos without the subject's consent. But First Amendment experts urge caution.
Read full story...
Democrats Help Block Nominee For DOJ's Top Civil Rights Job
March 6, 2014
The nomination of Debo Adegbile, a civil rights lawyer who helped handle the appeal of a cop killer, forced Democrats to choose between infuriating law enforcement groups or angering minority voters.
Government Printing Office Is Churning Out Less Paper
March 6, 2014
The government is saving money by offering more online services. But some worry that seniors and other without access to the Internet are being left behind.
New England Governors Back Obama's Minimum Wage Hike Plan
March 6, 2014
Obama took his push for a higher national minimum wage to Connecticut. The message was welcomed by the governors he appeared with, but back in Washington there isn't much political momentum.
Selling Health Care To California's Latinos Got Lost In Translation
March 6, 2014
Certain sales strategies work well with American Latinos. California's insurance exchange didn't try any of them when advertising coverage with the Affordable Care Act.
Read full story...