A Plan To Eliminate Wild Mute Swans Draws Vocal Opposition
March 11, 2014
The proposal to eradicate the birds in New York by 2025 has pitted environmentalists against animal rights activists. Some call the swans invasive and destructive; opponents say the science is faulty.
Read full story...
Norway Takes The Lead In Electric Cars (With Generous Subsidies)
March 11, 2014
Next month Norway is expected to become the first country where 1 percent of the cars are electric. Most Norwegians are supportive, but it's taken large financial incentives to reach this level.
Read full story...
Trapping And Tracking The Mysterious Snowy Owl
March 11, 2014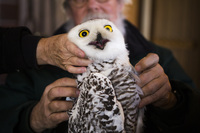 This winter's unexpected arctic bird invasion has given owl researchers a rare opportunity. They're fitting a few of the errant owls with GPS backpacks to track their return to the Arctic.
Read full story...
Turning Food Waste Into Fuel Takes Gumption And Trillions Of Bacteria
March 11, 2014
A Brooklyn waste treatment plant has become an unlikely lab for an ambitious effort to turn millions of tons of food scraps from New York City's apartments and restaurants into renewable energy.
Read full story...
Why We Should Quit Tossing Fish Heads And Eat 'Em Up Instead. Yum!
March 7, 2014
If you really want to fight food waste, eat fish heads, the U.N. says. They're nutritious and delicious, but most fish heads get thrown back in the sea as trash or turned into livestock feed.
Read full story...
Seeking Energy Independence, Europe Faces Heated Fracking Debate
March 7, 2014
To stay competitive, Europeans need cheaper natural gas but they also need to be less dependent upon Russia. They're looking at fracking as a solution, but opponents have environmental concerns.
Read full story...
Chinese Superstar Lifts Ivory Cause Onto His Shoulders
March 6, 2014
Former NBA star Yao Ming is very famous in China, and he's using his fame on behalf of conservation issues. Now a member of China's parliament, Yao is calling for a ban on the sale of ivory in China.
How Yosemite Keeps Its Bears' Paws Off Campers' Hamburgers
March 6, 2014
The park's bears have developed a taste for human food, and that's gotten them in big trouble. But efforts to teach campers to lock up food are helping solve the problem, a bear hair analysis shows.
Read full story...
Law Aims To Keep Chicago From Becoming Petcoke Dumping Ground
March 6, 2014
Midwest refineries are processing crude oil from Canada's tar sands. Chicago officials voted to ban any new companies from storing petroleum coke in the city, and said existing companies can't expand.
With Waste Dump Closed, Where To Put Nuclear Leftovers?
March 5, 2014
Workers are about to re-enter a New Mexico waste dump that was hit by a recent accident. The incident is shaping up to be yet another setback in the quest to find a home for America's nuclear waste.
Even After The Floods, The Drought Continues
March 5, 2014
The storms that drenched California recently did little to combat one of the state's worst droughts in a century. Farmers in California's Central Valley say they need "Biblical proportions" of rain.
Chipotle Says There's No 'Guacapocalypse' Looming
March 5, 2014
Yes, climate change raises the risk that avocados will become extra pricey. But Chipotle says that news reports suggesting it could be forced to drop guacamole from the menu are vastly overstated.
Read full story...
Wind River Indian Reservation's Borders Are Disputed
March 5, 2014
The borders have grown by about a million acres after a decision by the Environmental Protection Agency. Tribes see it as righting a historical wrong. The state is fighting the move.
Virus Locked In Siberian Ice For 30,000 Years Is Revived In Lab
March 4, 2014
A team of scientists says it has reawakened an ancient pathogen. It's not dangerous to humans, but they warn that climate change could free potentially deadly organisms locked in permafrost.
Read full story...
Nepal Cracks Down On Messy Everest Climbers
March 4, 2014
Authorities say that from now on, climbers on the world's tallest peak will be expected to return 18 pounds of garbage on their way down or lose a $4,000 deposit.
Read full story...
Divers Find 65-Foot Crack In Columbia River Dam
March 4, 2014
The 2-inch-wide crack was found after an engineer spotted an odd curve on part of the Wanapum Dam near the town of Vantage. The water behind the dam was drawn down to its lowest level in 50 years.
Read full story...
Even In A Desert, Drought Spells Trouble For Ranchers
March 2, 2014
Northern Nevada is feeling the wide-ranging effects of the drought. With grazing land diminishing and feed prices soaring, the cattle industry is reeling.
Read full story...
Throw Me Something (Again), Mister: Mardi Gras Beads Revived
March 2, 2014
When the parade is over, all those beads the crowd so eagerly called for seem to lose their shine. Rather than see the leftovers end up in a landfill, one New Orleans group collects and recycles them.
Read full story...
Creation Museum: Bill Nye Debate Sparked Funding 'Miracle'
March 1, 2014
Ken Ham, the museum's founder, says a $73-million Noah's Ark theme park was saved from bankruptcy thanks in part to the media attention generated by the face off.
Read full story...
Polar Bear Flip-Flop: People Hated, Then Loved These Photos. What Changed?
March 1, 2014
See the huge bear. He is hungry. See the little dog. He is happy. See the bear move close. "Come, play!" says the dog ...
Read full story...