Colleges Move To Ban Selfie Taking At Graduation Ceremonies
April 24, 2014
The University of South Florida told students to think about "the dignity of the ceremony" before attempting a selfie with the university president as she hands them their diplomas.
Amsterdam Mayor May Ban Pot In Red Light District, Court Says
April 24, 2014
A court in the Netherlands has upheld the mayor's efforts to ban marijuana cafes in an area that permits prostitution.
U.S. Ramps Up Aid To Syrian Rebels
April 24, 2014
The U.S. is increasing both arms and training assistance to the Syrian rebels. Advocates of the program say they hope to change the situation on the ground, others doubt it will help much.
Obama: U.S. To Defend Japan In Territorial Disputes With China
April 24, 2014
President Obama is in Japan for the start of his four-nation Asia visit. The trip aims to assure U.S. allies that they're not forgotten, even as China gets more bullish with its neighbors.
Small Businesses Fight Big-Box Stores By Specializing
April 24, 2014
As online and mega stores take up more of the retail landscape, small mom-and-pop shops are getting more specific. We examine one of the ways small stores are looking to survive and possibly thrive.
With SuperShoes, Insoles Can Be Your Guide
April 24, 2014
SuperShoes are squishy insoles that fit inside your shoes. Inside those insoles are "vibrotactile ticklers" linked to your mobile device. Enter a destination and the ticklers guide your way.
Competition Watches As Wal-Mart Debuts Money Transfer Service
April 24, 2014
Customers will be able to send and receive up to $900 at a time at more than 4,000 U.S. stores. Analysts don't think the other money transfer clients will be hurt because of their loyal customer base.
FCC Set To Change Net Neutrality Rules
April 24, 2014
On Thursday, the chairman of the Federal Communications Commission will propose new rules for how broadband providers should treat the Internet traffic flowing through their networks.
Sales Of New Homes Plunged In March
April 24, 2014
The harsh, persistent winter may have been partly to blame. New home sales are at their lowest pace since last July.
Injured Sherpa Explains Why He'll Never Climb Mount Everest Again
April 24, 2014
Kaji Sherpa recalls taking two steps backward when a wall of snow careened toward him, and it made all the difference. He survived Everest's deadliest disaster — and now says he'll stick to farming.
Read full story...
Mine Dust Rules Could Slow Production, Coal Mining Companies Say
April 24, 2014
The Mine Safety and Health Administration has announced new regulations reducing the amount of coal dust miners can be exposed to in underground and surface mines.
U.N. Blames Rebel Forces For South Sudan Massacre
April 24, 2014
Hundreds of civilians have been massacred in the South Sudan town of Bentiu. For more, Steve Inskeep talks to Andrew Green, the South Sudan bureau chief for the Voice of America.
Bob Dole Returns To Kansas For Gratitude Tour
April 24, 2014
The 90-year-old former GOP senator says it's an opportunity to meet with friends and thank voters who supported him during his decades-long career in state and national politics.
Read full story...
Why Bill Gates Fights Diseases Abroad, Not At Home
April 24, 2014
The Microsoft founder and philanthropist talks with NPR's David Greene about why he's spent billions on health efforts in developing countries, and about the prospect of beating polio and malaria.
Read full story...
After Bangladesh Factory Disaster, Efforts Show Mixed Progress
April 24, 2014
One year ago, a factory building in Bangladesh collapsed, killing more than 1,100 workers. Top retailers have begun inspecting factories more aggressively, but other steps have fallen short.
Read full story...
When Money Trumps Need In College Admissions
April 24, 2014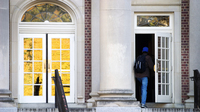 Some of the factors keeping low-income students from getting into college aren't always obvious to the public, higher education insiders tell Morning Edition's David Greene.
Read full story...
Damon Albarn On 'Everyday Robots' And The Birth Of Britpop
April 24, 2014
Albarn says the sound he helped create with Blur in the 1990s was not a celebration of England, but a reaction to America's encroaching influence.
Read full story...
FDA Moves To Regulate Increasingly Popular E-Cigarettes
April 24, 2014
If the agency has its way, it will ban sales to minors and keep e-cigarettes out of vending machines. People also would be warned that the nicotine vapor the devices emit is addictive.
Read full story...
Florida School Offered Kids Caffeine On Test Day
April 23, 2014
Students at a Melbourne, Fla., elementary school were offered trail mix and Mountain Dew on the morning of standardized tests. A grandmother got the school to stop.
Canadian Police Extricate Bear From Jar
April 23, 2014
Residents in Ontario called police when they spotted a bear bumbling down the street. It was unable to see where it was going because of a large birdseed jar stuck on its head.