Extra Vaccination Push Underway In Ohio As Mumps Outbreak Spreads
April 19, 2014
Officials in Columbus, Ohio, are scrambling to contain a burst of mumps cases. There's a new clinic open for vaccinations, and Ohio State University is teaching students how to protect themselves.
Read full story...
Telltale Rainbow Sheens Show Thousands Of Spills Across The Gulf
April 19, 2014
Since the disastrous BP spill in 2010, environmentalists have kept watch over Louisiana's coastline. One consortium says there's far more oil leaking into the Gulf than companies are reporting.
Read full story...
Bringing Poetry And High Culture To Sao Paulo's Periphery
April 19, 2014
Poetry in an unlikely place: In a grim urban shanty town in the middle of Sao Paulo, budding poets from the poorest sections of Brazilian society get together weekly to compose and recite poetry.
Top Teams Sitting Out Of NBA Playoffs
April 19, 2014
Some of the NBA's hottest teams missed the cut for this year's playoffs. And to what lengths will Cuban athletes go for a chance to play in the MLB? ESPN.com's Howard Bryant tells NPR's Wade Goodwyn.
Syrian Rebel Stronghold On The Verge Of Government Takeover
April 19, 2014
The Syrian city of Homs has been a rebel stronghold since the anti-government uprising began. But one rebel tells NPR that they're low on ammunition and medical gear.
Putin Tries To Sell Ukraine's Muslims On Russian Rule
April 19, 2014
Russian President Putin is reaching out to Muslims in Crimea. Professor Robert Crews tells NPR's Wade Goodwyn that Putin is trying to build alliances in the Muslim world to weigh against the West.
Watch For The Blind Lets You Feel Time Passing
April 19, 2014
A new watch allows the blind to feel time on their wrists. Designer Hyungsoo Kim tells NPR's Wade Goodwyn his watch allows users to tell time accurately without revealing their disabilities.
Training Could Avert Another Fertilizer Plant Disaster
April 19, 2014
A year ago, a fertilizer plant explosion in the town of West, Texas, killed 15 people and wounded 160. NPR's Wade Goodwyn reflects on how to avoid a future catastrophe.
Captain, 2 Crew Members Arrested In S. Korea Ferry Sinking
April 19, 2014
The search continues for hundreds of people, mostly students, who were on board a South Korean ferry when it sank this week. Correspondent Anthony Kuhn shares the latest with NPR's Wade Goodwyn.
Rufus Wainwright Shares Songs, And A Few Stories
April 19, 2014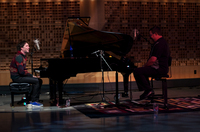 Wainwright creates music that is theatrical, emotional and operatic. He stopped by NPR's studios to perform a few of his hits.
Read full story...
NCAA Beats 'Strategic Retreat' On Food Rules For Student Athletes
April 19, 2014
The NCAA is facing scrutiny for how it treats student athletes. NPR's Wade Goodwyn talks to New York Times columnist Joe Nocera about changes the organization made this week.
'Say Anything,' Still Full Of Guileless Affection
April 19, 2014
Monday marks the 25th anniversary of Cameron Crowe's Say Anything. A look back at the seminal teen flick reveals a surprisingly deep and romantic story.
Polio Threatens To Spread Through Central Africa
April 19, 2014
A polio outbreak in Cameroon has spread to Equatorial Guinea and threatens to move throughout Central Africa. Before the outbreak, Equatorial Guinea had been free of polio for nearly 15 years.
Avalanche Buries Sherpas On Mount Everest
April 19, 2014
At least 12 Sherpas died in a recent avalanche on Mount Everest. Climber Conrad Anker explains that the guides were helping prepare a route for hundreds of climbers expected for the summer season.
Agreement Could Avert Ukrainian Civil War
April 19, 2014
World leaders agreed to end the occupation of Ukrainian government buildings by pro-Moscow militants. But militants have said Kiev's government must step down first. Ari Shapiro talks to Wade Goodwyn.
Critics: Hollywood Tax Deals A 'House Of Cards' For Local Economies
April 19, 2014
Tax credits have long been used to attract film and TV productions, but with the loss of revenue, critics of the practice say those investments are not worth it.
Obama Adds Malaysia To His Asia Itinerary
April 19, 2014
Obama travels to Malaysia next week, where the government is under fire for the handling of a missing airliner. NPR's Wade Goodwyn talks to Joshua Kurlantzick of the Council on Foreign Relations.
How A Music Writer Learned Trust Is The Ultimate Backstage Pass
April 19, 2014
Lisa Robinson knows how to talk — and how to make others, especially musicians, want to talk. The veteran rock journalist speaks with NPR's Wade Goodwyn about her four decades behind the scenes.
Read full story...
In Silicon Valley, Immigrants Toast Their Way To The Top
April 19, 2014
Immigrant workers in the Silicon Valley attend Toastmasters meetings to improve their public speaking. Organizers say those skills often lead to increased confidence at work and even job promotions.
Read full story...
For Chris O'Dowd, 'Of Mice And Men' Is More Than An American Story
April 19, 2014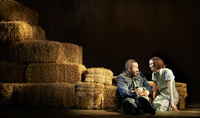 "All of us have chased the American dream so there's something very universal about it," the Irish actor says. O'Dowd and James Franco star in a new Broadway production of Steinbeck's novella.
Read full story...