CPAC Is A Siren Call To GOP Presidential Hopefuls
March 8, 2014
Take one ballroom, add thousands of conservatives, stir in hundreds of reporters, and you have an irresistible attraction for GOP presidential hopefuls: the Conservative Political Action Conference.
Read full story...
What Germans Know Could Help Bridge U.S. Workers' Skill Gap
March 8, 2014
American job training programs are failing to turn out enough skilled workers to fill job openings in the U.S. That's puzzling to some Europeans, who have a different system for training workers.
Read full story...
In A First, The Paralympics Get Political
March 8, 2014
The Paralympics are just getting started. Baseball fans are mourning the death of sports medicine pioneer Frank Jobe. NPR's Scott Simon speaks with Tom Goldman about the week's sports news.
Making A Computerized Voice A Little More Human
March 8, 2014
Speech scientist Rupal Patel customizes synthetic voices for people who can't speak. She tells Guy Raz of TED Radio Hour about helping people communicate in a voice that fits their personality.
Tensions Rise In Ukraine Standoff
March 8, 2014
New tensions are flaring between Russian and Ukraine, as Russia signaled that it was prepared to annex Crimea. NPR's Scott Simon speaks with New York Times reporter Steven Erlanger.
Malaysia Airlines Flight Vanishes With 239 On Board
March 8, 2014
A Malaysian Airlines flight went off the radar on its flight from Kuala Lampur to Beijing with 239 people on board. Three Americans were on board, including an infant.
Coming Up: Detroit Symphony Returns From The Brink
March 8, 2014
Just a few years ago, the Detroit Symphony Orchestra was weathering a financial crisis and a bitter labor dispute. Tune in to Weekend Edition on Sunday to hear about its impressive recovery.
Did You Hear The One About The Scottish Actuary?
March 8, 2014
The man who holds the world record for telling the most jokes in an hour is not a comedian, but a Scottish actuary. NPR's Scott Simon speaks with the record-holder, Donald MacLeod.
Brothel Beckons To GOP: Hold Your Convention In Las Vegas
March 8, 2014
Vegas is bidding to host the 2016 Republican National Convention. Besides plenty of hotel rooms, there's another perk to offer.
The Conflict Inside Ukraine Is More Than An East-West Divide
March 8, 2014
The crisis in Ukraine stems from a generational divide, according to Julia Ioffe, senior editor at The New Republic. She tells NPR's Scott Simon that Russia's Vladimir Putin has plans for Ukraine.
How Sanctions Against Russia Could Come Back To Bite Europe
March 8, 2014
EU countries are threatening punitive economic measures against Russia for its involvement in Crimea, but longstanding ties between Russia and the EU could make sanctions a double-edged sword.
From Uganda To The Midwest, 'All Our Names' Draws Portraits Of Love
March 8, 2014
Dinaw Mengestu is known for writing about the immigrant experience, but his latest novel takes a slightly different tack: It's about love born out of loneliness and need, and complicated by war.
Read full story...
Meet The Murdering, Kidnapping Imposter Who Fooled Walter Kirn
March 8, 2014
In 1998, the novelist befriended a rich, eccentric, art-loving Rockefeller — or so he thought. Kirn explores the man's lies in Blood Will Out: The True Story of a Murder, a Mystery, and a Masquerade.
Read full story...
Reaching The Young And Uninsured On A Texas Campus
March 8, 2014
Many young people feel they can't afford health insurance. A professor in Houston is trying to educate students about subsidies that could help — and the penalties if they don't sign up now.
Read full story...
Affordable Care Act Isn't Perfect, But It's A 'Pretty Good Structure'
March 8, 2014
In his new book, Ezekiel Emanuel explains How the Affordable Care Act Will Improve Our Terribly Complex, Blatantly Unjust, Outrageously Expensive, Grossly Inefficient, Error Prone System.
Read full story...
The Persistence Of Elbow
March 8, 2014
"My microphone stand was a broom handle," says singer Guy Garvey of his band's early days. The UK alt-rockers have been at it a quarter century, driven by what he calls a kind of foolhardy enthusiasm.
Read full story...
Spain's Robin Hood Mayor Fights For 'Communist Utopia'
March 8, 2014
The mayor of a small Spanish town cleaned out supermarkets to give food to the hungry and draw attention to their economic plight. But now he's facing a potential jail stint.
Read full story...
A Kid Named Carl Stirs Up The Bach Musical Dynasty
March 8, 2014
On the 300th anniversary of his birth, hear how music by Johann Sebastian's son Carl Philipp Emanuel bridged the gap between the old-fashioned Baroque and newfangled music by Haydn and Mozart.
Read full story...
Hollywood Bug Man Understands How Cockroaches Think
March 8, 2014
How do you get insects to "act" on camera? Entomologist Steven Kutcher tells NPR's Scott Simon about wrangling bugs for Hollywood — and about using the insects as living paintbrushes.
Read full story...
'Unproductive Anxiety' And The Solo Act Of Essay Writing
March 8, 2014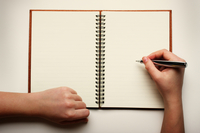 Wednesday, the College Board announced it will make the essay portion of the SAT exam optional. But what is lost when the importance of essays is diminished?
Read full story...